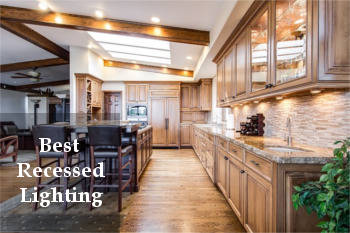 What are the main characteristics of the best recessed lighting? Many homeowners would name long life span, energy efficiency, safety and ease of installation among the most important choice criteria. While naming the characteristics of good recessed lighting is quite an easy and intuitive task, finding the right product is way more challenging.
What size recessed lights are best for a bedroom? Or what size can lights should I choose for a kitchen? Should I use 4-inch or 6-inch recessed lights in a kitchen? These are some very important questions. So if you feel like you need some help with this tough but really important choice, this review of the best LED recessed lights is something you might need right now. See a cool selection of proven products. This can and should be done right now!
Which One Top Recessed Lighting in 2019
1. Hykolity – Best LED Downlights for Kitchen Applications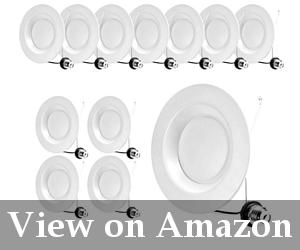 These replacement recessed lights for retrofit applications are supplied by Hykolity Lighting – a US distributor that specializes on wholesales of LED lighting. This particular product features a sleek design with a smooth trim that reflects the beam and helps maximize brightness. However, because the light is recessed into the trim, the beam angle is 20° less than in Parmida lights. Nevertheless, it is still sufficient to effectively illuminate large areas. The lumen output of these recessed lights is great enough to provide exceptional brightness, even if installed on high ceilings.
This LED recessed lighting kit for remodeling is supplied with all the necessary wiring and adapters and is ready to be installed right out of the box. Instructions manual is also supplied, so even non-electricians can handle the installation. This lighting provides an optimal combination of brightness and energy efficiency.
Features and benefits
1150 Lumens.
Energy consumption: 13 Watts.
Dimmable recessed lights.
100° beam angle.
Available in 3 color temperatures.
Smooth trim.
CRI 82 (color rendering index).
Compatible with 6-inch cans.
Pros
A reflecting trim facilitates better distribution of light throughout a 100° angle.
Marked with an Energy Star, which means it is qualified as an energy-efficient solution.
Suitable for high ceilings.
Easy to install and replace.
High color rendering index.
Cons
The list of compatible dimmers is not quite wide. If you have a pre-installed dimmer, chances are that this lighting set will not fit.
Verdict
The Hycolity retrofit recessed lighting set might be a good option for those who are looking to replace their old halogen lights. The light is bright enough to illuminate even windowless rooms. Although it is compatible with most of the recessed cans, it might not fit your existing dimmer.
2. Parmida Disk Light – Top Dimmable LED Recessed Lighting (Retrofit)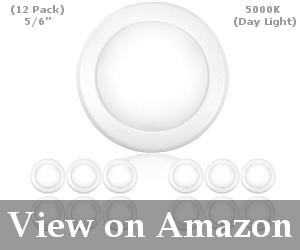 This Parmida LED lighting kit is designed for retrofit applications, but can also be used as a part of brand new lighting installations. It does not include cans but comes with adapters that can be used with those cans. The kit also includes wire nuts, spring connectors, a set of wires and screws. These lights are compatible with any of the 5-inch or 6-inch recessed cans.
Integrated LED lights put out impressive 1050 lumens (an equivalent of a 120 Watt halogen bulb). At the same time, energy consumption is rather low and can help you save up to 88% on your electricity bill.
This disk lighting is mounted flush with the ceiling. The advantage of such an application is that the beam is not hindered by the trim, providing uninterrupted and shadow-free illumination of large areas. Besides, the trim measures only 1 inch in width, while the rest of the space is dedicated to the light itself.
Features
1050 Lumens (120W equivalent).
Energy consumption: 15 Watts.
Dimmable lights.
120° beam angle.
Damp rated.
The lighting is available in 4 color temperatures.
Measures 7.25 inches in diameter.
Pros
This lighting fixture puts out an exceptionally bright light.
Can be used in damp locations (showers, bathrooms, etc.), as well as in covered outdoor spaces.
Guaranteed to provide up to 50,000 hours of continuous illumination.
Meets the latest energy efficiency and safety standards.
High color rendering index (greater than 90), which means this lighting can be used in locations where the accuracy of colors is critical.
Cons
Compatibility issues might occur in retrofit applications.
Verdict
The Parmida retrofit disk lights can be a great replacement of old recessed lamps. LED bulbs, integrated into these fixtures are energy efficient and exceptionally bright. They are also able to reveal the colors of objects more accurately than other lighting fixtures. The recessed lights look sleek and modern and can upgrade your old installations, but some compatibility issues might occur.
3. TORCHSTAR – An Ultra-Thin 6-inch Recessed LED Lighting Kit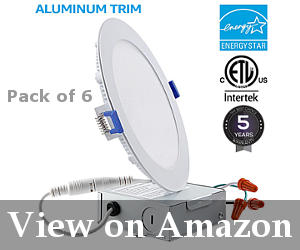 If you have low ceilings with little clearance, most of the recessed lighting fixtures are just unavailable. In this case, you might want to consider these super-thin recessed lights from Torchstar. It requires only 2 inches of space to be mounted. There are no cans that take up a lot of space and just won't fit in narrow ceilings. The junction box is also rather compact. Thanks to such a simple design, these lights are rather easy to install. They come with integrated 100W equivalent LED bulbs.
The Torchstar recessed lights are available in two color temperatures: cool white (4000K) and daylight (5000K). Both options are dimmable ranging from 5% to 100% of brightness intensity. The LED lights are rather energy efficient and long-lasting. The housing is made of aluminum, which is lightweight and corrosion-resistant.
Additional information
850 Lumen LED lights.
6 inches in diameter.
Open trim.
Up to 36,000 hours lifespan.
Available in 4000K and 5000K color temperatures.
Dimmable.
Pros
These lights can be installed in tight spaces.
Simple design ensures effortless installation.
Exceptionally high brightness.
Carries an ETL listed mark, which confirms its compliance with the national safety standards.
Cons
Unreliable information regarding the IC (insulation contact) rating of these lights.
Verdict
The Torchstar ultra-thin lighting kit is a great alternative to standard bulky lamps, which cannot fit into narrow ceilings. You will only need as little as 2 inches of clearance to install this lighting. The installation process is rather straightforward, no tools are required. The only issue with this product is that the manufacturer does not provide clear information regarding the IC rating.
4. Sunco Lighting (Baffle Trim) – A Dimmable Recessed LED Lighting Kit for Residential and Commercial Applications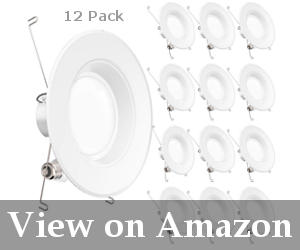 This is a set of long-lasting LED recessed lights. Each light is concealed in a durable case with baffle trim. This type of trim looks clean and simple and helps reduce excessive brightness. Lamps enclosed by baffle trims emit soft, glare-free light that is easy on the eyes.
This lighting fixture is available in different color temperatures, from soft white to daylight. 5000K light is perfect for living rooms, kitchens, studios, as well as offices, restaurants, hotels, and other commercial venues. Besides, the light is dimmable and allows you to choose the right intensity between 10 and 100 percent to create a perfect ambiance in your living or working environment.
The Sunco Lighting fixture is easy to install. Mounting does not require any additional components, only those that come in a set. If you need to illuminate a large room you can choose a set of 12 recessed lights to save some money.
Interesting benefits
Guaranteed 35 000 hours of life.
Baffle trim.
White color.
Dimmable.
Suitable for 5-inch and 6-inch retrofit installations.
13 Watts.
965 lumens.
Pros
Simple traditional design that will work well with any interior design.
Suitable for commercial and residential lighting applications.
Provides soft, glare-free light.
A complete installation pack is provided.
Can be dimmed to as low as 10% of the initial brightness, which is quite rare among recessed lights at this price point.
Cons
Because of the baffle trim, the light is not as bright as one might expect it to be judging by the lumens.
Verdict
The Sunco recessed lights pack is a great energy-efficient solution for homes and commercial facilities. It is quite bright, but not overly; it puts out non-disturbing glare-free illumination. This recessed lighting fixture can also work great in a bedroom, where the soft and delicate ambiance is preferable.
5. Lithonia Lighting – Superb Dimmable LED Recessed Light for Small Areas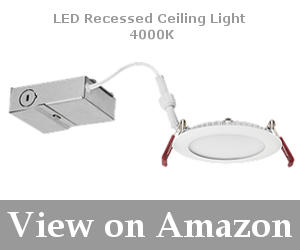 If you need perfect recessed lighting for a small area, this is the option you should consider. This ceiling light is just perfect for space-saving installations. Its low-profile design allows it to be installed in apartments, attics, corridors, stairwells, and other areas with low ceilings. Besides, this lighting fixture is wet rated, so it can be used outdoors – on verandas, open gazebos, terraces, and porches, as well as in bathrooms, showers and wet rooms. It can also be used in soffit lighting installations to create an unforgettable outdoor ambiance.
The light is not as bright as in some other products discussed in this review but sufficient for most of the small and medium-sized locations.
Interesting features
750 Lumens.
Energy consumption: 10 Watts.
Dimmable.
Available in 3 color temperatures.
Flush mounting.
CRI 80.
Wet rated.
IC listed.
36,000-hour lifespan.
Pros
The slim design makes it perfect for shallow ceiling plenum.
All parts are approved for direct contact with insulating materials.
Edge-lit LED lighting fixture provides even distribution of light throughout the space.
Requires a smaller hole in the ceiling than most other recessed downlights.
Can be used outdoors and in locations with high humidity.
Cons
This lighting is not bright enough to sufficiently illuminate large areas and rooms with high ceilings.
Verdict
This recessed lighting fixture is a perfect solution for small areas, wet locations, and outdoor use. It has the best-recessed light bulbs for a kitchen. Thanks to the slim design these fixtures can be installed on low ceilings and ceilings with a shallow plenum. However, if you want to illuminate a large room with high ceilings, this recess lighting might not be sufficient.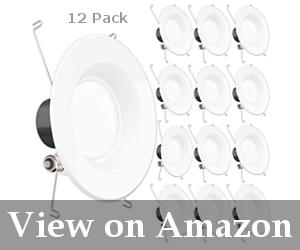 This is another version of Sunco Lighting retrofit kit. The main difference between the two models is the trim design. This model has a smooth trim that reflects the beam and ensures even distribution of light all over the room. If you need more brightness and fewer shadows, this option will suit your needs better.
Another distinctive feature of this lighting kit is that it is applicable in wet locations. That means you can install it outdoors, where it can be affected by natural elements.
The LED lights are designed to last for 35,000 hours, i.e. almost 16 years, if used 6 hours per day. This recessed lighting fixture meets all the regulatory requirements regarding safety, energy efficiency and quality.
Features
35,000-hour capacity.
Smooth trim.
Dimmable.
Compatible with 5'' and 6'' recessed cans.
13 Watts.
4 color temperatures.
830 Lumens.
Pros
A smooth trim provides higher brightness and more radiant illumination than a baffled trim.
This fixture is approved for wet locations and direct contact with insulation.
Robust case.
Easy to install.
Cons
Might be too bright for a bedroom.
Verdict
Sunco Lighting is a US seller that distributes high-quality lighting solutions for miscellaneous applications. This retrofit kit is one of the best recessed lighting for kitchen, bathroom, attic, entryway, hallway, basement, and even steam room and various outdoor locations.
If you are looking for recessed lighting with easily replaceable bulbs, you should consider the Globe Electric lighting kit. It includes 10 lighting units compatible with 7 Watt LED bulbs.
Installation of the base unit itself is rather simple, but with replaceable bulbs, it gets even simpler. Besides, if in the future you will want to change, let's say, the color temperature of the light, you won't have to remove and replace the entire fixture. The best-LED bulbs for recessed light can be found in big box stores or online.
The Globe Electrics recessed lighting kit is ridiculously easy to mount. Thanks to its unique push-and-click feature, the housing can be installed in seconds without any hardware required. The can and the junction box are made of rust-proof materials and are certified to be used with insulation. Gimbal trims used in this recessed lighting fixture allow the bulbs to pivot and rotate directing the beam to the area where it is needed the most.
Useful accessories
Gimbal trim.
Compatible with 7W LED bulbs.
Dimmable.
5 inches in diameter.
IC rated.
Damp rated.
Pros
Durable rust-resistant components.
Easy to install thanks to the state-of-the-art clip system.
Can be used in damp locations, such as bathrooms, porches, covered terraces, etc.
Pivoting trims allow you to accentuate certain areas and elements of your interior.
Equipped with a cut-off switch that allows it to avoid overheating and makes it safe to come in contact with ceiling insulation.
Cons
Bulbs need to be purchased separately.
When the bulb is tilted at a maximal angle, part of it gets hidden in the trim, therefore, unwanted shadows might appear.
Verdict
The Globe Electric recessed lighting kit is suitable for residential and commercial use, including damp locations. The kit includes only housing units, without the bulbs. It is extremely easy to install and can safely come in contact with ceiling insulating materials.
How to Choose the Right Recessed Lighting – AWESOME Buyer's Guide
Whether you are in search for the best recessed lighting for a kitchen or the best LED bulbs for recessed lighting, here are some important things to consider.
Type of installation. If you want to replace your old lighting, there is no need to remove the cans. You can just buy a retrofit LED recessed lighting replacement and perform an easy installation. Some compatibility issues might occur, but still, it's a simpler way than to replace the whole system. If you are planning a new installation from scratch, you naturally have more options. And can choose almost any product that is more to your liking.
Type of trim. There are many types of trims, which can be roughly divided into two categories: with a recessed bulb and flush trims. The former provide more gentle illumination (especially if baffle trim is used), while the latter usually provide more brightness and have wider beam angles.
Compatibility with dimmers. You should always check a list of dimmers compatible with particular recessed lighting you are considering.
Color Temperature. Most of the recessed lights are available in four or five basic color temperatures. Warmer lighting is more suitable for bedrooms, sitting rooms and other locations where the cozy ambience is desirable. Cooler light is more preferable in kitchens, offices, and commercial applications.
The greater the amount of lumens listed, the brighter a lamp would be. However, depending on the type of trim, lamps with the same amount of lumens can put out a different amount of light.
Energy efficiency. The best bulbs for recessed lighting are those that will not need replacement after a couple of years. Modern LED bulbs can last for up to 50,000 hours, so you should keep an eye on big numbers.
Conclusion and Recommendations
Every homeowner would agree that proper lighting is one of the most important components of a home environment. Not only it illuminates the rooms during dark hours of the day, but also sets the mood and creates a desirable ambiance. There are so many possible applications for LED recessed ceiling lights – kitchens, living rooms, entryways, basements, attics, etc. Recessed lighting can be found in almost every home. It is so popular that we cannot imagine our homes without it. We cannot say definitely which recessed lights are the best. Since they all have their pros and cons. But we hope that our article will shed some light on this problem. And make the decision-making process a little bit easier for you.
See Recessed Canned Lighting Detailed Recommendations. Click here!