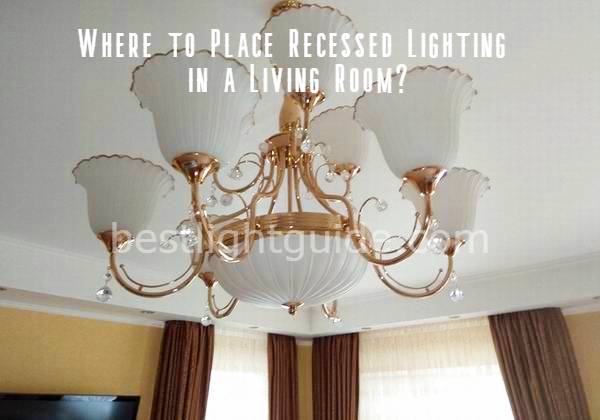 Are you going to update illumination in your house or apartment? It would be a stellar idea. Your living room requires special attention. Lighting works on the way your space looks and feels. Where to place recessed lighting in living room? It should be nor too dull, neither hella bright. Properly designed, it would create a vibe and character. You are to consider multiple aspects. Size and position of your windows matter. Height and type of ceiling factor on the position of your lights. Which effect do you want to get? According to your needs, recessed lighting may be decorative or functional. Are you ready to be creative? So, let's do it.
Should I Put Recessed Lighting in My Living Room?
Your space should be cozy and welcoming. It serves for socializing and relaxation. Are you going to entertain visitors? Entering your house, they are to feel cozy and comfortable. In your living room, they gain a good impression of your family. Its lifestyle and achievements are in open view.
Where will you display your heirloom pieces, pictures, and sculptures? They are to be at the head of the table. Your lounge or living room is also a place to chill at night. After a long busy day, your family converges there to spend some time together. So, your living room is to be elegant, modern and inviting.
Proper illumination creates a cozy, pleasant mood. Do recessed lights meet the purpose? These stellar solutions are:
modern;
stylish;
versatile;
efficient.
Compact and low-profile, recessed lights give you a clear, sleek ceiling line. These epic lighting fixtures suit low-ceiling rooms and confined spaces. They cast light in any direction you like, making a special impression. They match most modern interior design styles. You are just to size and position them properly.
See interesting information about best recessed lighting!
How Many Recessed Lights Should I Put in My Living Room?
Without any protruding fixtures, your ceiling looks stellar.  Minimalistic design is beneficial. Are you going to renovate your room? Even if you change its style dramatically, the lights don't require replacement. The wall-washing effect is mental. It implies even, well-scattered illumination.
Your living room recessed lighting layout makes the difference. General or ambient lighting might become its solitary option. It would imply regular lights' positioning. Let me highlight the example with a chart.
| Room dimensions, ft. | Area, sq. ft | Lights No. |
| --- | --- | --- |
| 10*10 | 100 | 8 |
| 12*12 | 144 | 10 |
| 15*15 | 225 | 12 |
| 18*18 | 324 | 16 |
| 20*20 | 400 | 18 |
Distance from the wall should be not less than 3 feet. Otherwise, you get accent illumination. It would highlight your luxury pictures, sculptures or so. Several lines of lights might be available. Distance between them commonly makes 2-3 feet. It creates evenly distributed rad lighting. But you may need to see about the corners and cozy nooks.
Should Recessed Lighting be Symmetrical?
If you have no other overhead illumination solution, it would do the job. Recessed lights provide stellar, diffused light. It would be its first or initial layer. After the natural sunlight, for sure. In California, it's abundant and efficient. Even in late fall and winter, we get not less than 11 and a half daylight hours.
Artificial illumination is necessary only at night. Ambient or general lighting is a basic level. It substitutes natural sunlight and mimics its unique properties. Thus, equally spaced fixtures are opportune. They apply if your living room ceiling is flat. Lighting uniformity is beneficial in some cases.
So, you easily calculate and locate the fixtures. Their number is consistent. But you should consider a grip of additional aspects, such as:
ceiling height;
furniture location;
diameter of lights;
types and wattage of bulbs.
A taller ceiling would require brighter and more efficient illumination. The number of lights might be the same.
How Many Can Lights Do You Need for a 12×12 Room?
If you are building or remodeling your house, these fixtures are on target. You are to get access to your ceiling and drill some holes. Running wire through them might be a bit difficult. Commonly, the installation is hella intuitive. Haven't you placed drywall yet? It's easy-peasy.
Realizing what is IC rated recessed lights, you easily choose reliable products. They are safe and energy-efficient. When trusses and joists are visible, attach the fixtures to them. Their orientation may work on position of the lights. How many cans do you install?
8 or 10 lights in two rows or lines are apt. It's the simplest solution. But you might consider the position of your:
dining area;
TV viewing zone;
lounging nook;
social or exhibition displays.
Accent and task illumination are essential. Add 3 or 4 fixtures right above the furniture or artwork. If you want them to highlight pictures, spacing from the wall might be minimal. It makes from 6 to 12 inches.
Recessed Lights: Their Types and Position
Your room size might be decisive. For sure, it's a basic variable for your calculations. Meanwhile, recessed lights are diverse. They differ by:
size or diameter;
thickness;
adjustability;
finish;
type.
Are can lights be the same as recessed lights? Typically, they are. Shaped like cans, with light metal housings, these fixtures blend with the ceilings. It enables a sleek look and easier installation. If you need to replace a bulb inside a can, it's intuitive. Trims are also diverse. They add to the overall aesthetics of your smooth ceiling.
Colors and finishes are a matter of taste. Meanwhile, if you are going to locate the lights, their diameter matters. The common rule implies an inch-feet correlation. Thus, the distance between 4-inch lights should make 4 feet. Lighting fixtures that are 3 inches in diameter may sit closer to each other. Light intensity and color temperature are something else again.
Are Canless Lights Better?
The fixtures that include only thin housings and trims are special. Do you live in an old house? It would be easier to mount the thin disc there. You would need no access to the ceiling. Connecting electrical wire directly to them is commonly safe. Will you need a can or housing to protect the bulb inside it?
It's useful. Сan lights in the living room are opportune. But canless alternatives are completely safe. In comparison with their old-fashioned counterparts, they are more:
DIY-friendly;
energy-efficient;
easy to install;
bright;
cheap and long-lasting.
The reason is canless lights come only with safe and efficient LED bulbs. So, they don't heat up and commonly pose no fire risk. Do they meet your local building code requirements? In California, they are acceptable. IC-rated luminaires or fixtures come with deep junction boxes. So, they are safe to contact the insulation.
On the other hand, selection of can fixtures is wider. Various trim options are available. Additionally, they let you direct the light as you wish. They enable a wide beam angle.
How Far Apart Should Recessed Lights be Placed?
Asymmetrical lighting fixtures' position is possible. Vaulted or sloped ceilings require a special approach. In your private house, attic rooms look airy. Thus, you'll need distinctive, angled fixtures. Their configuration would be also irregular. Accent lighting makes the difference.
How far should recessed lights be from cabinets? What about the distance from the furniture? Commonly, you are to center your lights 12-18 inches from the walls. It makes a mental wall washing effect. Washing the front of cabinets, shelves, and drawers, it lets your stylish room look cozy. An additional row of lights would be necessary over a sofa or an armchair.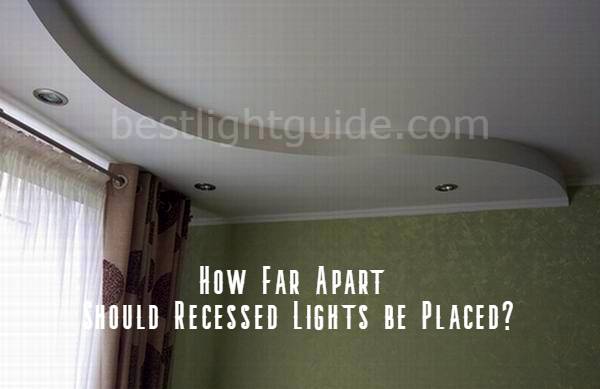 Quite naturally, alternative solutions exist. For example, track lighting vs recessed lighting is:
easier to install;
more flexible;
cost-effective;
practical and decorative.
Do you live in a rented apartment or studio? You won't drill holes in the ceiling, for sure. Track solutions are intuitive. They are functional and versatile. Durable, adjustable heads highlight your heirloom collections or artworks. But they may look chunky, matching only a grip of interior design styles.
Recessed Lights Considerations: Brightness and Mood
Installation of these rad fixtures might be tricky. They would suit suspended ceiling structures. Making holes in them is much easier. Low ceilings are no big deal. Don't get butthurt due to this imperfection. Select the fixtures that provide concentrated light. A lower beam angle is preferable for task applications.
A wider beam angle is opportune in the case of the high ceiling. General or ambient light solutions feature it. Thus, illumination in your living room is to be comfortable. It's brighter than in a bedroom but duller than in a kitchen. Your best flexible track lighting is also bright and focused. What about the light intensity? Let's figure it out.
| Room Application | Illuminance Level, LM/ft2 | Illuminance Level, LM/ 100 sq. ft. room |
| --- | --- | --- |
| Living Room | 10-20 | 1,000-2,000 |
| Bathroom | 70-80 | 7,000-8,000 |
| Kitchen | 45-55 | 4,550-5,500 |
| Bedroom | 20-30 | 2,000-3,000 |
What are your favorite activities? If you like reading or sewing in your living room, it's one thing. You may prefer chilling, sitting in a cozy armchair or watching TV. Comfortable, not too bright lighting is beneficial.
More interesting information can be found here: best flexible track lighting!
Your Room Application and Recessed Illumination
Your intimate space should be calm and peaceful. You are to create a romantic and relaxing atmosphere. At night and evening hours, try to avoid bright artificial light. It may affect your sleep. Individual differences also matter. Therefore, dimmable luminaires are preferable.
In your living room, this aspect is also important. The space is high-functional. It allows studying, conversations, napping, dining and so on. It works on the layout and lights' placing. How many recessed lights in bedroom are opportune? In your sleeping nook or sanctuary, you would prefer:
natural, soft or light colors;
minimalist or cozy decors;
warm, dim light;
flexible and adjustable solutions.
What size recessed lights for kitchen do you select? Focal points and functional spaces in your house are to be well-lit. Fixtures that are from 4 to 7 inches in diameter do the job. In your private area, small lights are preferable. 3-4" sizes are popular. You might need fewer fixtures, correspondingly. Their position depends on your specific layout.
Here you can browse the best lighted travel mirror!
Light Intensity in Residential Spaces
Your visual tasks might be diverse and challenging. At home or directly in your living room, you may do a grip of different works. Cleaning and ironing, reading and sewing require concentration and clear visibility. In an office building, n illuminance level may work on your performance.
Choosing to light for a windowless bathroom is not an easy matter. Which light bulbs are best for windowless bathrooms? You are to consider the brightness. Luminous flux of 1,500-2,000 LM is preferable. Even if your bathroom is small, only 4 or 6 fixtures would do the job. Additionally, these luminaires are to be:
safe;
low-voltage;
energy-efficient;
waterproof and rust-resistant;
beautiful and stylish.
Detailed and precise works require bright, focused light. The best lighting for makeup is soft and sufficiently bright. You are to prevent cast shadows or dark spots. The lights are to cover the space evenly. The color temperature also matters.
In a windowless space like your bathroom, it should be warm. 3,000-3,500 Kelvin range is optimal. It would be opportune in your bedroom, promoting sound sleep. In your living room, natural while light is beneficial.
Quick answers about best lighting for bathroom with no windows!
Energy-efficient Recessed Lighting
In your residential spaces, interior décor makes difference. In your bedroom, muted and pastel shades are preferable. They might affect your mood, emitting calmness. It refers to wallpapers, curtains, painting, textile and other décor options. At night, prefer the shades that promote sleep and relaxation.
Your best-recessed lighting warms the space. Thus, a grip of colors in your interior design is relaxing. They make you feel secure, happy and calm. These shades include:
white;
light pink;
green;
blue;
beige.
What kind of bulbs do you use? Star-shaped LED fixtures are usually used for closet lighting. These fixtures are compact and efficient. They are easy to install and attractive. Recessed lights that include metal housings may power any type of bulb. Which one do you prefer?
Low color temperatures that are about 2200-3000 K are typical for incandescent bulbs. They promote relaxation and calmness. Fluorescent devices emit cool or neutral white light. 4000K solutions do well for studying and remote working. They promote alertness, improving your productivity. Compact and energy-efficient LED bulbs are available in a grip of color temperatures.
Right Now interesting information about best closet lighting!
Living Room Illumination Levels
There is a grip of available bulb options. Most of them do for our stellar ceiling light fixtures. LED ones are clutch. Even if your recessed lights come with thick metal housings, they are beneficial. These options are safe, as they are low-voltage. They don't heat up, like fluorescent tubes or halogen lamps.
Energy efficiency rates high nowadays. The long lifespan of LED bulbs is a rad benefit. They virtually don't burn, so you won't have to replace them. Recessed lighting vs flush mount is uniform and unobtrusive. Modern LED bulbs fit them hella well. Meanwhile, you can blend your stellar fixtures with other design options, such as:
large windows;
pendants;
chandeliers;
ceiling fans;
track fixtures.
Recessed lighting in living room with ceiling fan is opportune. If you live in a state with a warm climate, it's a useful fixture. In California, a ceiling fan is an all-season unit. Lights are essential anywhere. Their position should not be a heavy concern.
Choosing Recessed Lights Layout
In every space three layers of illumination are necessary. Ambient light is a basic solution. Besides, your ceiling fan might be a source of ambient or accent illumination. It would create a mental mood in your living room at night. Are these lights not bright enough?
Low-profile and non-extruding recessed fixtures complement them. What do you have to consider? Not so many lights are necessary in this case. Locate the:
far from the room center;
outside the fan blade edges;
around the perimeter of the room.
Recessed lights should not be too close to the fan blades. Centered fixtures might be not necessary. Meanwhile, don't forget about zoning and task lights. You know, recessed lights in kitchen placement depend on a grip of factors. Countertop, kitchen workspace, table and sink position matter.
A similar scenario is in your living room. Do you want to enjoy pendant lighting? Hanging down from cords or rods, these stellar fixtures embellish your space. They are opportune above your dining or coffee table.
Your Living Room Concept and Illumination
The common space in your house might be more formal. It would include a social display, being modern and stylish. It might be a kid-friendly space or your mental gathering place. Do you enjoy chilling in your cozy nook? It might be more casual in style, soft and comfortable.
The family room recessed lighting layout may differ from the living room illumination concept. It would feature warmer colors, softer materials and simpler designs. Avoid sharp edges and too bright lighting. Ensure unobstructed visibility and a warm, pleasant feel.
Fewer and smaller fixtures and necessary. Is there anything better than stylish recessed lights? Modern technologies forge ahead. Thus, wafer lights vs can lights are:
thinner;
more lightweight;
easier to use;
intuitive to install.
These stellar advanced devices suit both formal and casual rooms. They commonly come with compact and dimmable LED bulbs. Both warm and cool illumination solutions are available. Will you prefer them? Let's have a closer look at these technologies.
What is a Wafer Light?
These plates, based on wafers, are beneficial. Including innovative semiconductor materials, like silicon or germanium are ultra-thin. It has a stellar photovoltaic effect. These thin slices of monocrystals have unique properties. They convert electric or solar energy into lighting.
In California, it's hella useful. An abundance of sunshine makes them efficient. Wafer lights may look like your family pictures. They are only about 0.5-inch-thick. So, you may mount them on the wall or ceiling surface. How long do wafer lights last? They are virtually everlasting.
Thus, these stellar fixtures resemble canless devices. But they are even better, being:
adjustable;
cost-efficient;
affordable;
modern and stylish.
Wafer lights let you choose any of three available color temperatures. Will your recessed lights be so handy? You would have to replace a LED bulb to make the light warmer or colder. I would use a grip of groups and lines with separate switches. They would do different functions. Do your wafer lights have a special glare? I guess this drawback is dispensable. So is the absence of adjustable heads.
Video Review: How to Install Recessed Lighting?
Bottom Line
Your living room is a special space, for sure. All your family members come there together at night. It's a place to converge, talk, play, and meets guests. It is to be cozy, stylish and welcoming. Proper illumination is essential, and recessed lights would be a stellar option. You may place them in rows or at the room perimeter. Brighter or dimmer, warmer or cooler light would meet your needs. These mental fixtures might match other illumination options, like ceiling fans or pendants. So, choose a suitable layout according to your room style. Buy a set of modern lights, install them and have a good time at home.