Are you going to renovate your house? Adding some recessed lights is quite opportune. These fixtures are versatile and low-profile. They may illuminate work zone in your kitchen or let you read more comfortable in your bedroom. However, what kind of light bulbs go in recessed lights? Let's think again which technologies: modern or traditional are worth using. I am sure, this article helps you to keep up with technical progress.
How Many Recessed Lights in Bedroom Do You Need?
Planning ambient or task illumination, you are to calculate the number of fixtures and their placement. It depends on multiple factors, such as:
your common activities;
size of the lighting fixtures;
room type;
beam angle.
Meanwhile, space of the room and bulbs wattage are decisive. That is, you would need more lighting fixtures for a large space. Above all, how many recessed lights in bedroom? Bathroom and kitchen are to be illuminated brighter than a bedroom. Going to read in your living room, select the bulbs with a higher wattage rating than for a hall or nursery.
Easy Calculation of Room Lighting
That is, it's preferable to locate lights in pairs. This way, you get some symmetry. However, if you want to highlight decorative features of your living room, it can be compromised. Bringing attention to bookcases, pictures or fireplaces, provide special accent lighting. Balanced illumination is to be created for sure.
What Size Recessed Lights for Kitchen to Select?
Kitchen is a functional room. In terms of lighting, it can be regarded as a work environment of a person that cooks food. Various chores are performed in the kitchen every day. So, according to recent research, ergonomics is to be considered. It concerns conditions including technical equipment, tidiness and planning of the optimal layout.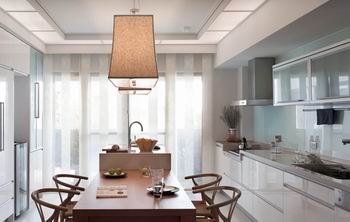 Thus, you are to create all types of lighting, including:
Task illumination is critical in the kitchen. They highlight the spots where you cook your favorite dishes. The areas near the oven, sink, and table are to be perfectly illuminated. So, built-in, under-cabinet lights are to be installed. How to measure recessed lighting size in kitchen? Accurate measurement refers to the diameter of the opening. Outer trim rim is a bit larger.
Quite naturally, under-cabinet lights are small by diameter. 2-3 inches are common sizes of these fixtures. However, recessed lights are usually installed on the ceiling. Overhead illumination makes chopping meat and vegetables safer. Appearance of shadows is reduced.
How Far Should Recessed Lights be from Cabinets?
It depends on the bulb type. The ones that radiate heat should not be close to wooden furniture. Additional heat is also not desirable for kitchen that may be the hottest and the most humid place in the house.
Recessed Lighting at a Distance from a Facility
Recessed lights are to be spaced 36-48 inches from each other. The distance is measured from center to center. Quite naturally, the room size and ceiling height matter. Additionally, 4-inch fixtures may be located closer to the walls and cabinets, than 5-inch lights.
Types of Recessed Lighting
Recessed light is a fixture that consists of 3 components: trim, housing and bulb. It is installed flush with the ceiling, creating a clean, modern look. The fixtures make your room feel bigger. It's especially beneficial if your ceiling is low. Additionally, the lights are sleek, versatile, waterproof and virtually not visible.
What is the difference between can lights and recessed lights? No difference exists. These fixtures are called "can" due to their can-like, metal housings. These parts may be designed for contacting insulation directly (IC-rated) or not (non-IC). They may fit shallow or sloped ceilings, be airtight or suitable to be installed in damp locations.
Meanwhile, trim is a ring we see, looking at the ceiling. These parts are classified as:
baffle (ribbed-interior);
reflector (mirrored);
pivot;
eyeball;
gimbal;
shower;
wall-wash.
Trim is decisive when we select design of the fixtures and their functionality. Meanwhile, bulb type also matters as it affects quality of light and energy-efficiency of your house as a whole.
Can LED Bulbs Be Used in Recessed Lighting?
All bulb types that are fluorescent, incandescent and LED can be used in recessed lighting fixtures. However, we are to meet our local energy efficiency standards. For example, according to the 2019 California Title 20 Regulations, using of LED bulbs is highly recommended.
Incandescent bulbs, including its modern type, filled with halogen gas, are widely used for household applications. However, they generate heat, wasting a lot of energy on it. Fluorescent (CFL) bulbs are compact, but they contain dangerous chemical element that is called mercury.
So, the best-recessed lighting is created by LED bulbs. They are:
durable;
long-lasting;
energy-efficient;
flexible;
safe;
eco-friendly.
These bulbs generate virtually no heat. They run on low-voltage power supply, eliminating risk of electrical shock, even underwater. These bulbs are dimmable, providing comfortable bedroom lighting. Additionally, they might be very small, combined in any shape. So, you can create fantastic lighting effects due to LED technologies.
Here you can see more information about best recessed lighting!
How to Replace Bulbs in Recessed Lights?
As recessed lights lie flush with the surface of the ceiling, it seems to be quite difficult to grab and unscrew the bulb. Space between the fixture and the bulb is limited. Getting your fingers in may be tricky. So, replacing recessed light bulbs with led:
wait until the bulb is cool;
take a strip of duct tape;
press it to the bottom of the bulb;
make a handle from both ends of the tape;
twist it counterclockwise to unscrew the bulb;
finish unscrewing it by hand;
screw in a suitable replacement bulb.
Now, turn the light on. If the new bulb is operational, it's ok. Well, I hope, you had bought it, considering important factors. They include wattage, lumens and color temperature. Quite naturally, shape and size of the bulb are to correspond to the fixture dimensions and standards. Type of holder such as E27 or E14 matters.
Overall Impression
If you compare LED recessed lights with any traditional bulb type, the benefits are evident. They are much cooler, durable and energy-efficient. A bulb you buy is not the most affordable. However, it lasts for several years. You don't have to replace your bulbs every month or week. Additionally, they emit no UV radiation, being completely eco-friendly. So, these modern devices are worth investing in.