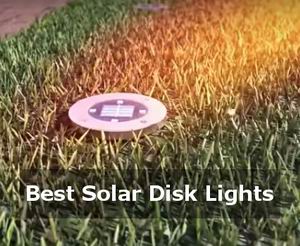 Is there a simpler and more efficient way to illuminate your outdoor space than the best solar disk lights? Probably no. Thousands of homeowners have already appreciated the benefits of solar panels. They are budget-friendly, easy to set up and low-maintenance.
We are here to help you choose the right product. Having reviewed dozens of products we narrowed the choice down to several options. So let's waste no more time and get straight to the point.
See 5 Best Solar Disk Lights in 2019
1. Outdoor Goods – The Brightest Solar Lights on the Market
Outdoor Goods delivers durability, practicality, and efficiency – all in a single package. At a moderate cost, you get a set of four lights. Each disk features 8 diodes, a 1.2V 600 mAh battery, and a 6V 60mA solar panel. Each disc is built of waterproof and corrosion-resistant stainless steel. The fixtures are rated IP65 for waterproof properties. This indicates perfect protection against fine particles and sufficient resistance to rain drops and other liquids.
Besides, the cases are heat proof. That means they can resist continuous exposure to heat coming from the sun and other objects.
Just like all other solar-powered lights, these ones have an automatic turn-on/shut-off system. Powerful batteries provide long-lasting illumination (up to 10 hours).
The discs are equipped with 5-inch-long stakes for secure mounting. If you need them on flat, hard surfaces, installation without stakes is also possible. The lights will look perfect on a deck, front porch or pool area.
Features and Specifications
4 pcs in a set.
8 LEDs.
Work for 10 hours.
IP65 water-resistance rating.
White light.
Heatproof.
Pros
Exceptionally long-lasting illumination.
The discs are well-protected against all kinds of nature elements, including excessive heat.
Large-capacity batteries.
Cons
The cover that conceals the switch is somewhat hard to open.
Verdict
Outdoor Goods solar disk lights are good value for the money. They are water-resistant, heat-proof and corrosion-resistant. On sunny days they can accumulate enough electrical power to shine for about 10 straight hours. Clean white light is ideal for accent lighting on decks, porches, and gazebos, as well as for plant sculptures, fountains and other landscape design elements.
2. Longans – The Best Outdoor Solar Lights for Walkways
Probably the first thing in solar lights people pay attention to is battery life. Everyone wants their lights to shine brightly all night long, until the sensor shuts them off at dawn. The key to more effective performance is a large-capacity battery. Longans lights have improved-capacity 1200mAh batteries. The amount of power accumulated in these batteries can last for more than one night. This is especially valuable when sunny days are followed by cloudy or even rainy days. There is no chance for solar panels to soak in energy if the sun does not show.
Just like all other solar disks discussed in this review, these ones have 8 diodes each. The LEDs emit bright white light of warm spectrum. It is great for accent lighting on walkways, driveways, terraces, and stairs. Several types of mounting options are available. Paired plastic stakes should be used to securely install disks flush with the ground. For better exposure to sunlight, we recommend installing them at an angle. That will also create interesting lighting effects at night. Finally, you can leave out the stakes to arrange the lights on hard surfaces. (In some cases you might need to use other fixation media, such as glue).
These disks have two lighting modes: steady light and flashing light. With the latter, you can achieve interesting effects. For instance, try setting half of the lights to flash on, while the other half is off. Then arrange them in an alternating manner and enjoy the sight.
Features and Benefits
8 pcs in a set.
8 LEDs.
Work for 10+ hours.
IP67 water-resistance rating.
Warm light spectrum.
1200mAh battery.
Two lighting modes.
Pros
These landscape lights are equipped with extra-capacity batteries. They can work for more than one night in a row on one charge.
Flash mode is available. It allows you to save energy and also create a light show in your yard.
Improved water and dust-resistance.
Enhanced durability (holds up to 220 pounds).
Cons
Once you have installed the lights, it will be hard to switch between the modes.
Verdict
Longans landscape lights are worthy of your attention because of their durability and powerful batteries. These warm white lights will look great in any location. Whether it's a garden, a terrace or a front yard, these lights will provide excellent illumination. The flashing lights mode will liven up your outdoor space in an instant.
3. Solpex – The Best Solar Lights for Garden
Solpex is a pioneer in outdoor lighting with integrated solar panels. No wonder this brand is favored by so many homeowners. But this is not merely the history of the company that makes it so popular, but rather an outstanding product quality. We invite you to take a closer look at Soltex disk lights.
The product is offered in a standard pack of 4 pieces. Each disk features 8 LED bulbs. Most other (and cheaper) solar disks have only four lights. Therefore, Solpex disks provide better illumination.
These fixtures are suited for any outdoor applications. They are protected against harsh weather elements – rain, frost, sleet, dew, etc. The fixtures will not rust or lose their structural integrity. Aside from being durable and economical, they are also very simple in use. Switching the control button on and inserting spikes into the soil is pretty much all that is needed. The battery charges itself during the day and powers the lights at night. With the first rays of dawn, the lights go off to avoid waste of energy.
Interesting Accessories
4 pcs in a pack.
8 LEDs.
Illuminates for 8 hours.
Stainless steel case.
Pros
Advanced construction provides a higher waterproof level as compared to competitors.
A product of a renowned solar lighting manufacturer.
Exceptional brightness.
Cons
Works poorly if not receiving enough sunlight.
Verdict
Solpex disk lights are a great solution for open spaces with abundant direct sunlight. They are easy to set up, waterproof, rust-resistant and bright when charged to the fullest capacity. However, if they don't receive enough solar energy, the performance will be only moderate.
4. KINGMAZI – The Best Set of Solar Disk Lights (Outdoor)
Kingmazi introduces a new enlarged set of 8 disk lights. This is one of the most cost-efficient solutions for your walkways, paths, patio or front lawn. You can also take them on a camping trip to liven up the campground. In comparison to other products, these ones are not particularly bright. They are rather on a soft side. Soft white light with yellow tint is ideal for outlining walkways and driveways. You can also use it to accentuate patterns on tiled areas. The lights are very pleasant to look at, since they have very mild glare.
Thanks to the application of corrosion-resistant aluminum alloy, these light discs are more durable than other products. They are rated IP67 for water resistance, which indicates protection from heavy rains. Nevertheless, you should avoid installing them in recessed places, where they are at risk of being flooded by rain water.
The LEDs are powered by a 600 mAh battery. Energy conversion rate is around 14%, which is quite good for an outdoor lighting fixture. Just make sure that the panels receive a lot of direct sunlight during the day. In that case they will be able to soak in as much solar power as possible.
Useful Opportunities
8 pcs in a set.
8 LEDs.
Shine for 6-8 hours.
IP67 water-resistance rating.
Warm white.
2V 100 ma solar panel.
Pros
This solar powered light disk has a higher energy conversion rate than most competitors.
Eye-friendly, glare-free light.
Improved water resistance.
This set is a cost-efficient solution for large areas.
Cons
Soft light cannot effectively accentuate large objects in the dark.
Verdict
Kingmazi lights are ideal marker lights for driveways, yards, garden paths or stairs. Its mild light is pleasant to look at and not at all disturbing. However, if you want some bright accent lighting, this isn't the case. In all other respects, these lights are very decent and budget-friendly.

5. LEEYALARM – Colorful Disk Lights (Solar)
Does plain white garden light sound too boring? Ever wanted to add some colors to your yard or driveway? These colorful LED lights from Leeyalarm might be something you are looking for. These solar light disks look and work just like regular garden lights. But once the sun goes down, a real colorful show starts. Seven vivid colors follow one another in a pre-set pattern. All you need to do is enjoy how your garden goes from bright red to warm yellow, then to radiant green and so on. A truly head-turning sight that will make all your neighbors slightly jealous.
Aside from stunning wonderful color variations, these lights have a lot more to offer. Each disc has 8 super-bright LEDs, enclosed into a waterproof case. If directly exposed to sunlight during a whole day, the battery accumulates enough charge to provide 6-8 hours of illumination. Each disk comes with a pair of abs plastic spikes for secure fixation. Whether it's gravel, mulch, sand or soil, installation is quick, easy and pain-free.
Each disk consists of 8 diodes, a solar panel, and a battery. The parts are non-replaceable, but the manufacturer provides a 1-year replacement warranty in case something goes out of order.
Specifications and Benefits
4 pcs in a pack.
8 LEDs.
6-8 hours of light.
Waterproof.
7 interchangeable colors.
Pros
Create a color show thanks to which your house won't be left unnoticed.
A stainless steel case and rubber seal protect the functional parts against weather elements.
Simple installation, no tools required.
Backed by a 1-year warranty.
Cons
Does not have regular white light.
Verdict
These landscape lights from Leeyalarm are not so much about illumination as about entertainment. They will splash your front yard with 7 vivid colors, one after the other. As cool as it looks, the constant change of colors might get pretty annoying. Unfortunately, you cannot switch to regular white light.
What to Look for when Looking for Garden Lights? A Concise Buyer's Guide
Searching for the best solar landscape lights but not sure how to recognize them? No need to worry, we have it covered for you. This guide will help you pick out the right product in no time!
How to choose solar path lights?
Before we answer this question, let's address another one first: how do solar lights work in the garden? Solar lights rely on energy that comes from the sun to emit light. The key components of a solar disk are the following: a solar panel, an accumulator and a set of light-emitting diodes (LEDs). When the sun is up solar panel absorbs radiation and generates electricity. The electric charge is stored in a built-in accumulator. When the sun goes down, a built-in sensor triggers the lights on. As the charge wears out the light will start to fade until it's completely down. Or, if there is enough charge, the lights will be shut off automatically as the sensor picks up enough sunlight. As you can see, everything is quite simple.
With this information in mind we can conclude that the definitive characteristics of a garden light are:
Battery capacity (measured in milliampere hour). Rule of thumb: the higher the better. Larger battery capacity ensures longer lighting cycle.
Voltage and amperage of a solar panel. These numbers multiplied give you the amount of power (watts) the panel can supply. More watts mean brighter lights.
Number of diodes. This number affects the quality of light. Cheap and outdated disk lights with four or six diodes put out rather poor light. Besides, the clusters of light are too visible and that does not look nice. Modern fixtures with 8 LEDs provide strong, homogeneous light and beautiful illumination.
These are some less important, but very much desirable characteristics:
Water and dust-resistance. The optimal resistance rate would be IP65.
Durability. Solar discs are not designed to withstand high loads. But it would be nice if your fixture didn't break in case accidentally stepped on.
Corrosion-resistance.
Spikes for in-ground installation.
Warm white vs. white
It's all about the kind of ambiance you strive to create. Besides, neutral white lights seem to be brighter that warm white. You might also want to consider that when picking out the lights for outdoor projects.
Some extra features you might like:
Colorful lights.
Flashing mode.
Remote photovoltaic panel.
The application of solar lights with remote panels is not limited to areas with direct sunlight. Thanks to the larger size of solar panels they can accumulate more energy than disk lights. Many solar lights for shaded areas are equipped with remote solar panels.
Conclusion
Many homeowners have a dilemma: solar vs. low-voltage landscape lighting. The latter is a great option, but it requires wiring, which is not an easy job. The former is definitely more economical and easier to install and maintain. Disk lights are among the most popular types of landscape lighting. Now, as you know everything about them, you can start your own lighting project. Just pick any of the options listed in the review or look for some other disk lights (Bell and Howell, for instance). Explore and enjoy!