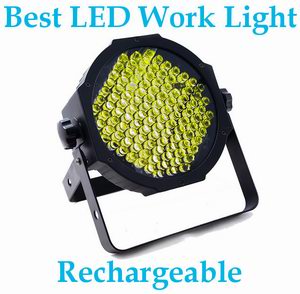 People have to work in different conditions. Whether it is a necessity to earn money or work at home, it is very important that the area where you work could be well lit. That is why it is very important to find the best LED work light rechargeable.
The most suitable solution for people who need to light up the area well is to choose a quality rechargeable LED light. It provides bright and powerful light that will create perfect visibility. You can take it anywhere and work at night as a good work light will create an atmosphere of the daytime and all the conditions to complete the work effectively.
Another important feature of LED work lights is durability and possibility to recharge them. You may use them for a long time and be sure that in a certain period of time they will be as powerful as they were at the initial stage.
The choice of the brightest portable work light models is very big. However, we have chosen 5 best work lights for you to consider and find the most suitable one for you. See a cool selection of proven products. This can and should be done right now!
Which One Top LED Work Light in 2019
1. Gear Aid 90120 ARC – Effective Portable Super Bright Led Work Light
It is one of the best rechargeable portables led work lights that also works as a small power charger with 60 LEDs. This work light can be easily transformed into a lantern to hang outside thanks to the diffuser bag and hook included. The battery capacity of 10,400 mAh is really impressive as any tablet, phone or other devices can be charged with the help of 1.5-amp USB port. There is enough power to charge 5 iPhones without additional light charging as its charging power is 32 Wh. The work light is charged for 7 hours with a 2.0-amp charger, while a battery indicator will always inform about the power left.
This LED work light features excellent adjustability as there are three color temperatures and ten brightness modes. You may choose among cool, neutral and warm light. It is possible to run between 20 and 320 lumens that will work up to 96 hours. The work light can be easily mounted to tripod due to 1/4″-20 threaded point. There are also two other mounts included such as Gear Aid, RAM and GoPro adapter can be purchased additionally. If mounted, it will guarantee for 180 degrees lighting without a necessity to hold it.
It is equipped with a metal kickstand easy to adjust and has IPX5-rated casing that is resistant to spray for more durable operation. The rechargeable LED work light is resistant to rainy, snowy weather, sleet, and sandstorms and works as an SOS signal if required. Being one of the best work lights it weighs only 16 ounces and has 60 bulbs for powerful light. The light is reliable and has a 1-year bounded manufacturer's warranty. This red rectangular helper will perform its responsibilities immediately with a Quick Start Guide included.
Additional features
3 color temperatures
SOS signal
waterproof
tripod
Pros
A solid well-built LED work light;
Extreme brightness;
Has firm catch points to keep the necessary light angle when you rotate it;
Ease of use;
Compact and sturdy;
Durable battery life;
As bright as a 100W bulb.
Cons
With anything plugged-in the rotating arc decreases up to 30 degrees only;
There is not enough space for fingers with a fully folded handle;
Verdict
This is one of the best-LED battery operated work lights suitable for any weather conditions and area. Its huge battery capacity makes it long-lasting and reliable with a quite reasonable charging time: after seven hours you can use it up to 4 days switched on. The number of mounts makes it very functional and flexible for different occasions. A powerful and durable rechargeable LED work light with excellent quality.
This portable light can be used for multiple purposes: as a spotlight, work light or camp light. With the power of 15W, there are 24 LED lights that guarantee bright light in different conditions. It is a perfect assistant in the road emergency thanks to 2 blue and 2 red Flashing LEDs. You will be able to give an SOS signal without much effort too. All of them are enclosed in a Durable Aluminum Alloy Shell that makes it super lightweight and guarantees IPX5 waterproof level.
There is a high-quality rechargeable lithium battery powerful enough to work as a work light for 24 hours and be used as a USB charger for different portable devices.
This portable LED work light is charged very quickly thanks to the original charger and 4.2V 350MAH input.
Its functional base guarantees 360° rotation while the light itself can move within 90° around the circle as well. The color temperature of the work light is 6000k and there are 3 modes to choose from: high, low and strobe.
The LED work light base has a polished steel finish colored yellow so it can be easily spotted even in the absolute darkness. The item weighs 2.25 pounds so it is possible to take it with even to long-term trips. You can easily carry it in your hands, put on the ground or hang thanks to the stable base that is dismounted and comfortable handle. The last one is covered with rubber for it not to slip from the hand.
Additional features
360° rotation
red and blue LED lights
SOS signal
3 modes
Pros
It does not get hot;
Bright light as in 100W halogen bulb;
Simply operated: ON/OFF button;
Good light spread;
Quick charge;
Excellent battery life.
Cons
A charger can overcharge if not turned off on time;
Small and not bright enough.
Verdict
This decent rechargeable LED work light deserves your attention. It is rather lightweight and powerful enough to be used both outside and in small spaces. Functioning up to 24 hours it can be charged very quickly. It is important to control the charging time or you can influence the battery detrimentally. The main features of the work light are portability, stability, and reliability. Though produced in China, the quality is quite good.
A decent representative of the battery operated construction lights this LED work light combines three important features: it is lightweight, rechargeable and portable. This light was created with the goal to guarantee the utmost comfort to workers so it is possible to hold it in the hand, attach to turnaround gear due to the powerful magnet with the pull strength of 135 pounds that can be easily removed, leave it to stand on its own or put it on the side – all this was meant to find the best position for every work type.
There is an innovative C4 power LED technology that guarantees excellent brightness when 200 lumens are working simultaneously. It can work up to 50 hours featuring two different reflectors designed for performing close-up task work and providing illumination if work in the big distance. There are also 4 different light modes: high, low, moonlight and flash. LED work lights are extremely durable and economical so there is no need to replace them.
The work light is equipped with a double power source: Ni-Cd battery to be charged or 4 AA alkaline batteries. The battery can be charged up to a thousand times with the help of a DC charger that copes with the task within an hour only.
The rechargeable work light quality is very high especially if to consider its durability and reliability characteristics. The base, as well as housing of the light, are made from hard nylon polymer resistant to severe impact. Every opening is O-ring sealed and there is sonic welding around the push button to guarantee IPX4 waterproof functioning. The lens material is non-breakable polycarbonate covered with silicone coating resistant to scratches for durability in any circumstances. Its head can articulate for 210 degrees and rotate for 360 degrees.
Additional features
The light is designed in a bright orange color. It weighs 2.2 pounds and is shockproof.
360° rotation
water and shockproof
3 modes
fast 1-hour charge
Pros
The button is easy to use even in gloves;
Incredibly durable and well-built;
Versatile;
Flood light;
Lightweight;
Strong magnet.
Cons
No beam light;
The battery lasts not very long.
Verdict
It is one of the rechargeable work lights where you can hardly find led trouble light reviews. The biggest number of users enjoy having it thanks to its reliability and versatility. It can be used anywhere and its biggest benefit is premium quality. One of the most durable and reliable work lights it has two battery sources: it differs it from other lights and is easily adjusted to light a necessary area. This work light deserves to be listed in the top of the best lights.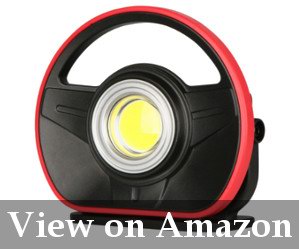 The following rechargeable work light is an effective COB light with high power and a large 35 mm diameter. It can produce light from 1000 lumens as well as it is possible to choose the light intensity starting from 100 lumens if you use a smooth dimmer setting. There is a 7.4V 2200mAh rechargeable lithium battery that allows the LED work light to function within 15 hours with a low mode on. However, it is possible to charge it almost everywhere thanks to two AC and DC charging adapters included.
The light has a wide 100 degree dispersion angle that can be adjusted very accurately in combination with an adjustable 170 degree swivel stand. There are also several embedded magnets on the light base to mount it easily to any metal construction. In addition, you get a metal rechargeable led work light tripod and an underwood bar to mount the light effectively and improve its accuracy.
One more important feature is the weatherproof IP65 rating that allows working in rainy or snowy weather. The reliability is guaranteed by a heavy aluminum frame and very tough Nylon housing.
The light is rather compact and portable. Weighing only 1.55 pounds it can be used anywhere on construction, worksite, emergency both indoor and outdoor. There is also a 5-year warranty from the manufacturer.
Additional features
100-degree dispersion angle
dimmer
weather resistant
Pros
Lightweight;
Easy to adjust and mount;
Very bright;
High-quality;
Survives in the severe conditions.
Cons
Magnets could be stronger.
Verdict
It can be surprising but this light has the smallest percentage of negative reviews. Undoubtedly, it copes with its main function to light area perfectly. In addition, it is well-built even despite being produced in China. You get 5 years of warranty for the product so be confident it will work well. The rechargeable light has many great features necessary for work and they make it a great choice for everybody who needs a powerful and durable LED work light.
5. POWERSMITH PWLR1120F – Best Reliable Floor Standing Work Lights
Rather powerful, rechargeable and foldable this work light will serve its owner well for many years. With 20W power and 1800 lumens, you get a really bright light output. Thanks to quality LED lights it remains cool to touch. Its 360° tilting head allows adjusting light, as accurately as possible.
There are for modes to choose from – high, medium, low and flashlight. The highest color temperature is 5000k.
There is a high-capacity lithium-ion battery of 5200 MAH. It allows the light to run up to 2 hours with all 1800 lumens on and up to 7 hours with 450 lumens on. If you do not use it for a long time, be confident it will function well as it is capable of holding the charge up to 1 year. In addition, it works as a power source for other devices to be charged through a USB cable.
The work light is highly reliable and comfortable to use and transport. It is rather lightweight – 3.3 pounds – as it combines steel and aluminum in its construction. The green frame and switches are sealed while the glass lens is shattered resistant so it is possible to claim that the rechargeable work light can be used in any weather. There is also a 2-year warranty from the manufacturer.
Additional features
Foldable, weatherproof
USB charger for devices
4 modes
360° tilting head
Pros
Versatile;
Easy to store and use;
Durable;
Does not get hot;
Adjustable;
Long-lasting battery.
Cons
Can have some troubles with the operation.
Verdict
The rechargeable work light with the metal stand is a very comfortable thing. The light is protected from breaking up and can be easily transported taking little space as folded. Its battery is powerful enough to guarantee several hours of incessant assistance while an ability to hold the charge up to a year without a necessity to recharge is really impressive. It also provides with an opportunity to charge other devices so will be useful not only at work but during the rest as well.
Buyer's Guide: How To Choose Best-LED Work Light Rechargeable
The variety of work lights in the market makes it possible to choose the most suitable product with the necessary characteristics. According to incandescent, fluorescent, LED and halogen work light reviews, all of them deserve your attention, however, LED examples are more versatile and flexible. It is the reason why they take most of the work light market and preferred by the representatives of different industries. Let's see what characteristics of LED work lights it is important to consider to choose the right item.
Brightness and adjustability
The main goal of the person who purchases a work light is a necessity to illuminate some area. It means you count on the item that will do it perfectly so brightness is a very important feature. The first thing that speaks about brightness is power and number of lumens. The more powerful the light is, the better it will illuminate the territory. The second feature is the presence of different modes: sometimes you may not need to switch on the maximum mode for a certain small-sized area, so an opportunity to select is crucial. The third feature to consider is the light output or the way how it is produced. Each light beam can be narrow or wide. The wider beam is, the larger area it will cover. However, the brightness and distance depend on the number of photons the light possesses.
It is not enough to have a lens with LED lights to get enough light. One of the most significant features of every work light is the way how it adjusts to the area. Sometimes you need to light up a specific spot from the top, for example, so it must not only be reliably mountable but also moving for a more accurate position. It is the reason to evaluate the mounts, rotation and tilting degree and the presence of the tripod, bar or frame to hold it. Some examples have powerful magnets to mount them on any metal surface without much effort. There is also a commercial electric 30 led handheld work light, laid on the ground or other surface or hung. To understand what mount way is the most suitable for you, analyze how you are going to use it.
Recharging and battery capacity
The work lights can be battery operated and use cords. However, it is not comfortable to have a corded one as it restricts your possibilities to work anywhere. That is the reason to prefer rechargeable battery operated examples. Simple alkaline batteries will quickly die with a bright light on, so prefer an example with a lithium battery that can be charged anytime. The charging speed also plays an important role.
The longevity of LED work lights directly depends on the battery capacity. A light can work from one hour in high mode and stay charged up to a year if not used. It is advisable to prefer examples with a larger battery capacity on order a work light could function longer and was charged not so often. In addition, the more rarely you charge a battery, the longer it will serve you.
Weather, water, shock resistance
There is nothing surprising that some work is performed outdoors in any weather conditions. You will be hardly happy to see that the light has not justified your hopes and turned off because of rain, snow or sand. It is important to analyze the product characteristics for it to assist you in any weather conditions.
Additional features
You may wonder what additional features LED work lights can have. In fact, modern examples are rather versatile. In addition to several modes that allow choosing the color temperature, there are examples with colorful lumens to be used in emergency situations or for SOS signal. Some products can offer a dimmer or wide light dispersion angle, are foldable and easy to store.
Conclusion
The best LED work light rechargeable will be a useful assistant not only performing work but also during the trips or emergency situations. This powerful illumination light will prevent you from staying in the absolute darkness and make the area you are in comfortable and well visible. Choose a product from the top 5 best work lights and you will get a reliable and durable assistant for every life situation.