Owners of private houses, villas, and cottages always face a problem of a badly lit yard at night. It is an attraction for criminals and additional stresses for residents who need to leave home when it is dark outside. That is why the purchase of the best solar landscape lights seems to be a necessity for everyone who wants to have a well-illuminated area next to the house and save on energy bills too.
Why should you prefer solar light best of all? It is natural that their main advantage is the possibility to be charged during the day when the sun is shining. They will not add even a penny to your energy bill and will illuminate as long as they have charge, so your household territory will be visible for hours or even for the whole night. In addition, modern solar led spot lights can be beautiful decor for your landscape in addition to their main function.
The choice of the solar landscape lighting is simple when the best solar lights for yard have already been chosen by our analysts and your task is just to decide what model will look more appealing in your yard.
So, see a cool selection of proven products. This can and should be done right now!
Which One Top Solar Landscape Lights in 2019
Do you enjoy looking at a flickering flame? Now it is possible to provide yourself with such a unique opportunity and enjoy flame in your garden every night when it gets dark. If you think about making fire on a daily basis, forget about it – obtain wonderful solar landscape lighting with a flame effect and dancing flames will light up your yard every night.
LED lights from Aityvert cast a safe and soft glow that reminds a flame to enhance your mood each time you look at them. These are 30.7-inch torches designed for outdoor use. They are waterproof and can withstand any weather conditions all year round.
Every torch is equipped with a rechargeable solar battery with the capacity of 2200mAh. It charges about 8 hours and can work up to 10 hours in summer and up to 5 hours in winter. This solar landscape lighting is provided with daylight sensors that start charging with dawn and switch on with dusk.
Features and benefits
The installation of the solar lights seems too simple: it is enough to push them into the ground wherever you want and enjoy outdoor events even when it is dark outside. There are 96 LEDs that are equal to 1600 lumens in brightness. Get an ambient solar landscape lighting with an amazing flame effect and you will be happy with this bargain.
Pros
Bright;
Powerful;
Exclusive dancing flame effect;
Easy installation;
Solar battery;
Long-lasting;
Lightweight;
IP65 waterproof.
Cons
Tragic flaws were not detected:)
Verdict
A powerful torch is a guarantee of the not only brightly lit area around your home but also security and privacy. Be outstanding among your neighbors due to a beautiful ambiance in the yard even at night without spending a dollar on electricity. This solar landscape lighting creates an effect of torches with the real flame that will look magnificent in your garden.
Who does not like those classic shepherd hook lights that adorn parks and alleys? If you are also a fan of classic solar landscape lighting, this wonderful hanging model will be a great decoration of the outdoor area. Powered by solar energy they do not require any electricity and are safe for children. In addition, it is a guarantee of durability and energy-efficiency too.
This solar landscape light differs from others by its design. When you buy a package of landscape lighting, you get two lights and two shepherd hooks. The installation procedure is very simple: you need to push the stake down in the ground to hang the light on or use tree branches for this purpose if you wish. For the solar landscape light to start charging it is necessary to remove an insulation trip.
The height of the stake is 26 inches, so your light will hang above the ground not very high and give a gentle white illumination around it. The solar landscape light is equipped with a battery that charges for 6-8 hours in average and works up to 10 hours.
Interesting features
Add security along your walkways and driveways and get a charming effect thanks to the unique design of these landscape light. It is weather-resistant and will operate in any weather conditions perfectly.
Pros
Long-lasting;
Solar-powered;
Easy to install;
Safe to be used outdoors;
Exclusive design;
Elegant look;
White light.
Verdict
If you are not planning to illuminate your garden as brightly as during the daytime, this solar landscape lighting is a reasonable choice. Beautiful classic design creates a charming atmosphere in the yard thanks to the eye-catching reflection and shades created. It is perfect for walkways and works for the whole night, what else is required?
A powerful spotlight with a magnifying lens can easily substitute an average flood light. The mini light fixtures from Solar Light Mart brand prove this fact in practice. Every light has a 60-100 lumen brightness and the output of 45 degrees due to a magnifying lens installed. It offers a powerful warm white light that covers a bigger area than customary bulbs.
In addition to powerful landscape light, these fixtures have several more benefits. Cast aluminum these fixtures have a textured black finish and an impact resistant lens for utmost reliability and decorative feature. Designed for outdoor use they have IP55 waterproofness level. Even cable connectors are not afraid of wet weather and will function well.
A package of two solar landscape lights contains also a large remote 3Wp panel with a rechargeable battery. The last one is charged during the day from the sunlight and delivers energy to both light fixtures through a 16-feet cable each. As a result, solar landscape lighting works from 5 to 15 hours. This period depends on the amount of charge and the setting you have chosen from 3 ones available.
Interesting benefits
One more reason to use these solar landscape lights is two ways of mounting. You can push the stake in the ground or mount them to the wall with the mechanical fasteners if you wish. The lights are durable and portable so you can change their position according to your mood.
Pros
Durable;
Weather resistant;
Bright;
Delivered pre-assembled and pre-charged;
Portable;
Can be installed in the distance from the power source;
Sturdy;
Dimmable.
Cons
The only yellow shade of light.
Verdict
It goes without saying that these warm white LED solar landscape lights is a finding for everyone who looks for bright but energy-efficient solutions. They are well-built, solid and resistant to water, so it is an excellent choice for landscape lighting. A set of two lights can be placed at some distance to cover a bigger area and take energy from one battery – a wonderful feature.
If you look not only for simple solar landscape lighting to prevent absolute darkness but want to create a special mood-raising atmosphere, you need to consider the purchase of bronze path lights from Enchanted Spaces. One package includes 6 extra-bright LED lights enclosed in a patterned glass lens and the last one is responsible for a star-shaped pattern created around the torch.
This model deserves a title of the best landscape solar lights thanks to a number of features it offers. First of all, these are solar lights with a rechargeable 600mAh battery each. You can charge it using electric power or solar energy. It means that a battery is charged from the sunlight during the day and then the landscape light can work for a few hours thanks to that.
What makes this solar landscape lighting outstanding is its appealing design. Beautiful bronze finish is combined with a glass lens that creates an ambient pattern with the light on. There is a solid structure of the metal ground stake that is pushed in the ground during the installation and a bright LED light that covers the area of several feet around the torch at the height of 12 inches only.
Features and Specifications
This solar landscape lighting is very durable and reliable. The company also offers top-not customer service and is ready to replace any defective items or batteries, so you can enjoy the beauty of these lights for many years.
Pros
Made of metal;
Both solar and battery powered;
Create a brilliant pattern thanks to a glass lens design;
Bright light;
Sturdy;
No wires;
6 torches in one package.
Cons
Sensitive to severe weather conditions.
Verdict
What are the best outdoor solar lights? Of course, these are ones that are energy efficient, bright and beautiful. Enchanted Spaces company has put much effort into its bronze solar landscape lights to possess these characteristics. They look elegant along the path and feature a high quality of the construction, so you will never regret buying them.
The main misconception connected with solar lights is connected with the necessity to play them in the place where there is most of the sunlight during the day. However, if your driveways and walkways are located in the shade, they can not charge fully during the day. In this case, a perfect solution for such situations is to obtain solar landscape lighting with an adjustable solar panel. You can change its degree during the day to get the maximum charge of the batteries in your lights.
BlackLemon brand has considered this trouble and created a quality spotlight with a 180-degree adjustable unit to catch the optimal amount of sunlight under a necessary angle. This unique feature of the landscape light is accompanied by many other benefits too. These spotlights have 4 LEDs enclosed into durable water- and heatproof plastic. It offers a 200-lumen light intensiveness with the opportunist to choose one of two brightness modes available.
The light is equipped with a powerful 2,200mAh battery powered by solar energy that allows it to work incessantly more than 10 hours.
Useful information
There are two simple ways of the solar landscape lighting installation. These lights can be installed in the ground or mounted to the wall with all the necessary equipment provided. The lights can be focused according to your preferences too.
A package of 2 best solar patio lights can become a nice adornment to your flowers and an additional light source for enhanced security as their excellent quality and durability are unquestioned.
Pros
Lightweight;
Easy to install;
Powerful;
Longlasting;
Adjustable panel and lights;
Automatic off function;
Resistant to full weather conditions.
Verdict
Looking for the outdoor solar spot lights for trees and landscape decor it would be a mistake not to buy these powerful lights. Their unique structure of the solar panel and a huge battery capacity make them ones of the longest-working lights in the market. You can focus them on the focal point of your landscape design and enjoy its magnificent look all day and night long.
It is not surprising that homeowners are always proud of their landscapes. Every bush, tree, flower bed or pond are so appreciated by their owners that should please their eyes not only during the day but also night. For this purpose, the best choice is an all-weather solar landscape lighting designed as spotlights. These small but powerful fixtures provide enough light for every landscape corner to be visible distinctly even in the complete darkness and put any burglars away too.
AMIR brand is a trustworthy leader in the market of solar lights. It has created a new upgraded version of the spotlight with 4 powerful LEDs. There is a 200-lumen output of lights enclosed into the durable plastic case. It is rugged and waterproof so any weather conditions are not an obstacle for this landscape lighting.
The manufacturer has made everything that its product could offer the best experience to its users. A new version has bigger solar panels that absorb more sunlight and adjust their angle for optimal charging. The light angle can be also adjusted for better efficiency. There is an anti-rotation design and a longer strand for the torch sturdiness in any weather.
The other benefits of the solar landscape lighting are a powerful rechargeable battery with the capacity of 2,200mAh and 3-year warranty and two modes of work to choose from. As a result, after 8 hours of full charge, the light will work from 8 to 14 hours depending on the mode chosen.
Additional accessories
With these spotlights, you can light up any area as they can be installed both in the ground and mounted to the wall. Make your landscape design even more appealing with bright spotlights that switch on automatically at dusk and off at dawn.
Pros
Powerful light;
Long-lasting battery;
Adjustable solar panel and light head;
Two modes and ways of installation;
Resistant to bad weather;
Sturdy;
Energy-efficient.
Verdict
If you need to adorn the yard next to your home, choose high output solar spot light (white light) from AMIR brand. Having made any important corrections to the first version, these upgraded solar lights possess all the necessary characteristics for excellent functioning. Enjoy a bright and long-lasting light with reliable spotlights.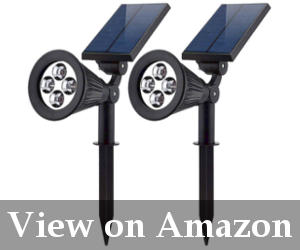 In search of the best solar powered lights for an outdoor area, it is better to choose brands with huge experience in this sphere. URPOWER is a company that has offered clients three generations of solar spotlights and the highest quality and excellent characteristics of the last version deserve your attention.
Unlike the products of the closest competitors, this company has corrected even minor drawbacks of the previous examples. Today it offers 4 ultra-bright LED lights with the bigger radius and the brightness of 200 lumens. There is an extended solar panel with the battery of 2,200mAh that guarantees bright light for 6-9 hours on a full charge. The panel is attached to the light with the plastic hinge to prevent rusting. Another feature that proves the utmost waterproofness of the light is a unique water groove design of the head.
Both the light head and the solar panel are adjustable, so you can choose an efficient position for the light either pushing it down in the ground or mounting to the wall. The stake features a crossed design to prevent the light from turning around and is longer for a better sturdiness.
Interesting information
The portable solar landscape lighting is energy efficient and environmentally friendly too. It switches on when it gets dark outside and stops working at dawn. You can choose one of two modes to switch between the intensiveness too.
A pack of 2 landscape lights is a nice choice for a deck, lawn, garden or pool area as well as the best solar driveway lights to show you the way. Spend a couple of minutes on their quick installation and you will forget about any surprises hidden in the darkness.
Pros
Easy to install;
Lightweight;
Adjustable head and solar panel;
Extended battery life;
Suitable for all kinds of weather;
Sturdy;
Bright;
Automatic work.
Cons
Plastic gets brittle with time.
Verdict
Though many people think that the main benefit of solar landscape lighting is energy-efficiency, in fact, it is not the only benefit you get. URPOWER brand has proven that in addition to low utility bills you also get bright adjustable lights that work automatically and need only a couple minutes of your time to install them. A perfect option for any area next to your home!
Buyer's Guide: How To Choose The Best Solar Landscape Lighting
The choice of solar landscape lights is a responsible task. Whether you need to light up the area in your garden, garage, patio or swimming pool area, you need to consider several factors to make the only right decision.
Area to be illuminated
Solar lights are designed in different ways. Some of them illuminate a small area and called spotlights, but there are also models that can cover a huge area and are known as the best solar landscape flood lights. Always learn the type of light and its coverage to understand if it meets your requirements.
Brightness
The number of lumens is a feature that indicates solar light brightness. Models with fewer than 100 lumens create an ambient atmosphere, while more powerful examples will be brighter. Some lights can have several modes or be dimmable too.
White or warm light
Depending on the light color and intensiveness you prefer, choose cold or warm light.
Type of mounting
The biggest part of the solar landscape lighting models can be installed in two ways:
pushed down in the ground;
mounted to the wall.
Time of work
Of course, every person would like his lights to work overnight. It enhances the security level and allows to do anything urgent in the yard even when it is dark. The longevity of the light depends on the solar panel installed and the battery capacity. Choose examples with a wider panel and powerful battle for overnight work.
The Best Solar Landscape Lights: Conclusions and Recommendations
Only a person who has experienced how comfortable it is to have solar lights in your yard can understand their unsurpassed assistance. Anytime you leave your home or arrive at it at night you get a perfectly visible area. That, in addition, is banned for burglars. Moreover, your garden and yard are adorned with beautiful sources of light that only enhance their attraction. Take advantage of high-quality solar lights for your landscape and you will wonder how you could live without them before.