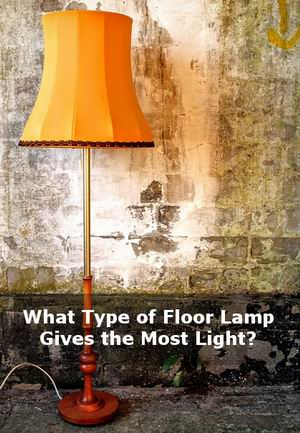 Artificial lighting is really essential when the natural one is absent, at night. It ensures comfort for everybody in the room. Even if the centralized illumination is quite bright, the individual, local lighting should be arranged near the chair, computer or bed. However, what type of floor lamp gives the most light?
Is exceedingly bright illumination always comfortable for your eyes and just the best?
Let's check!
What is the Indoor Light Brightness?
Visible light, beneficially emitted by any lamp or chandelier, is estimated in lumens. According to ANSI Institute, this term characterizes the total amount of light the special light source emits. It may be a downbridge floor lamp, a projector or another device. Dividing the lumens by the illuminated area, we get Lux. This unit actually measures illuminance of your working area.
For example, daylight emits about 10,000 Lux. Minimal visibility is ensured by 3-Lux light. So, how many lux and lumens do we need in our living rooms? The optimal illumination level for work areas and middle-aged people (from 25 to 65 years old), recommended by the IES Organization, is 150 Lux.
It equals 600 Lumens per 4 sq. m or 43 sq. ft. This lighting brightness can be ensured by 40-60W incandescent or 5-10W LED bulb. 50 Lux is that the best floor lamps for ambient lighting emit. Commonly, it's sufficient for a bedroom, hallway or your sitting room. Up to 2,000- Lux illumination may be necessary only for inspection or assembly. Thus, as our daily activities are diversified, the best floor lamps for reading are adjustable and dimmable.
Here can see still more information about best floor lamps for reading!
High Floor vs Table Portable Lamps
The lighting fixtures designed for various work areas are commonly placed on the table or on the floor. Desk and table accessories are placed on elevated surfaces, such as a piano, a buffet or an end table.
These lamps are versatile, popular and portable. Being commonly 20-30 inches in height, they can be easily moved from one room part to another.
Floor lighting devices are taller, conveniently fitting any room corner, placed near the armchair or behind the sofa. The idea of making the reading floor lamps adjustable is great as these perfect accessories are functional.
They brighten any task you perform:
knitting,
crafting,
reading,
just relaxing.
The bulb light is easily directed to your book or needlework. Its intensity can be also changed, adapting to your current needs.
The Basic Types of Lamp Styles
Coming with metal, wooden or ceramic bases, the popular floor lamps feature the shades, different by sizes, materials, shapes, and colors. However, what the most intricate for a potential buyer? Is to match the lighting fixture with the certain room design.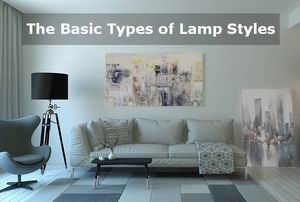 The most common lamp styles names are:
torchiere;
arc;
swing arm;
tower;
tree;
candelabra.
Any of these lighting fixtures can be highlighted as the floor lamps that give off a lot of light. Just replace the available bulb briskly with the brightest one.
Torchiere lamps
Meanwhile, torchiere lamps are thin and tall lighting accessories, equipped with inverted shades. They are widely applied as floor lamps for bedrooms or living areas, providing ambient illumination. A fixture of this kind can serve you like an accent lamp, illuminating the entire living space. This option is the most popular for the apartments or houses with high ceilings. However, as well as downbridge fixtures that direct light downwards, these lamps aren't adjustable. Therefore, they can't be used as task ones.
Tower lamps
Tower lamps look like the beautiful modern sculptures, providing pleasant, gentle glow. They come with the specially-designed frames and three-dimensional inserts. This artwork may emit colored lighting, performing aesthetic rather than utility function.
Arc-style lamps
Meanwhile, the best reading floor lamp for eyes is an arc-style seating area accessory. It is equipped with a long, flexible arm, attached to the base. Obviously, the lamp is beneficially adjustable. Letting the users focus the light on certain areas. For example, it's typically utilized as a source of over the shoulder reading light. Radiating it downwards, to your magazine or printed materials.
Tree lamps
Tree or multi-way lighting fixtures can be also highlighted as the brightest floor lamps to light a room. As they feature several poles on the single base. They are easily swung at various angles, brightening a couple of spots simultaneously.
Candelabra
A candelabra also includes several bulbs that may be quite bright. However, they all are located in the same shade, and the beam direction can't be changed, anyway.
Additionally, the lamps are designed in various styles:
Modern style;
Industrial type;
Art deco style;
Country style;
Scandinavian genre.
All styles are designed for the comfort and convenience of each room individually. And for a quick fit of the design and decoration of your favorite rooms.
How to Make a Floor Lamp Taller?
Standard lighting fixtures are difficult to elongate, as they are pretty heavy-weight and inflexible. Gooseneck lamps are perfectly adjustable. So, you are easily changing the angle, simply moving the shaft. If you straighten it out, the modern lamp would look taller. While it's not beneficial for reading or room illumination.
Thus, multiple lamps' types, styles, and designs are available on the market nowadays. Select the one that meets your requirements, matches the room design and fits its size. It's easily conversed to the best natural light floor lamp, as soon as you use the full spectrum bulbs. The bulb's brightness or wattage can be also chosen. According to your preferences and daily tasks to be performed. However, adjustable lamps are highly-recommended, as they are versatile, space-saving, good for your eyes' health and vision.