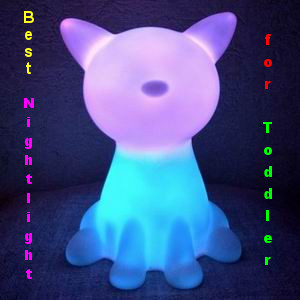 Finding the best nightlight for toddler is a task that many parents face. Newborns and infants usually can sleep anywhere, anytime. As they grow older and become toddlers they might develop a fear of darkness, which sometimes remains until the school age.
Besides, toddlers often crawl out of their beds at night to go to the bathroom, or to come to their parents' room. Parents often need to attend to their children at night. Wandering around a house or an apartment in complete darkness isn't a good idea, especially with toys laying around in unexpected places. This is where a nightlight comes in handy.
If you have ever considered buying a nightlight for a toddler, you have probably noticed that the spectrum of choices is immense, while the price range is confusingly wide. So let's dig into the subject starting with the most common questions about nightlights.
Which One Top Nightlight for Toddler in 2023
[amalinkspro_table id="876″ aff-id="bestlightguideapi-20″ new-window="on" nofollow="on" addtocart="off" /]
1. Hontry Newest Night Light – Great Moving Night Light for Babies and Toddlers
This nightlight is designed to be used in several different ways from a night lantern to a multimedia disco ball. The device comes in an egg-shaped case with a control panel on its bottom part. It has only four control buttons, so it's quite easy to operate. If you wish to use this device as a nightlight, you should remove the projecting part and enjoy soft, soothing light in one of four colors: yellow, blue, red or green. To create more fun and moving atmosphere you can leave it as is and it will fill your toddler's room with beautiful starry light (also available in multiple colors). The third option is to take the cover lid off for brighter and more vivid projection.
The nightlight can be put on a night stand near your toddler's bed or hung by a durable string. There are two power supply options available: batteries and a USB cable.
Features
Rotating stars projector (multicolored)
Customizable timer
An advanced timer allows you to set the night light on for as long as your toddler needs it, up to 995 minutes. You don't have to settle for standard timing regimes offered by most other nightlights.
Pros
Multi-colored starlight rotating projector.
Available in four different color modes.
Two power supply options offer more flexible use.
Customizable timer.
Can be used on different occasions by toddlers, older children, and adults.
Portable.
Comes with a hanging string.
Easy to clean.
Cons
The projector rotates rather fast and is too stimulating to be used as a before-bedtime entertainment.
Verdict
Hontry Newest Night Light is a truly versatile device. As a nightlight, it shines with a soft light in four different colors. If used with a cover lid on, it projects blurry multi-colored stars and can also be used before bedtime. In a rotating mode with a cone lid off it illuminates the whole room with colorful stars and a moon. Two different power supply options and a customizable timer make it even more flexible.

2. Livativ Dreampanion Soothing LED Lamp – Superb Night Light for a Newborn
Dreampanion Night Light Lamp is a portable wireless nightlight, suitable for children of all ages, including toddlers. It is powered by a built-in lithium polymer battery, which lasts for a very long time and does not require changing. The light is distributed by long-lasting LED bulbs. This nightlight uses mild warm light in the yellow spectrum that creates a comfortable sleeping environment.
Dreampanion night light is very easy to operate. It is designed in such a way that even toddlers can do it effortlessly. There is one button at the bottom of the lamp, which regulates brightness and burning time. You can choose between two brightness modes: as a dim lamp for a baby crib or in a brighter mode when you need to change the diaper or feed your child. By default, the night light shuts off automatically after 15 minutes. Alternatively, you may leave it on in a dim mode overnight. The battery lasts for approximately 14 hours between charges, which is more than enough for single use. When on the base the light does not work, but in case the electricity shuts down, it will turn on automatically.
Features
Does not heat
15-minute timer
Lightweight
This nightlight is very lightweight and easy to hold even in small toddler hands. Older children can take this lamp to light the way to the bathroom in the night. The device does not heat up even after long hours of staying on, so there is no risk of damage or inflammation. It is made of rubberized plastic that is rigid, but pleasant to the touch. The nightlight is smooth and easy to clean. As claimed by the manufacturer, the material it is made of does not contain any harmful components.
Pros
Long-lasting LED bulbs.
Warm, sleep-friendly non-flickering light.
Batteries do not need replacement. No maintenance cost.
Easy to operate.
Features two illumination modes: continuous and 15-minute auto shut-off.
Two brightness levels available.
Easy to grip and carry.
Smooth and pleasant to the touch.
Does not attract dust and dirt, easy to clean.
Portable.
Cute design.
1-year manufacturer warranty.
Cons
Bulbs and battery cannot be replaced.
15 minutes is often not enough for an infant or toddler to doze off, so a parent will have to turn the night light on repeatedly, which is not very convenient. A longer interval could have been a better idea.
Verdict
Dreampanion night lamp is a soothing night light for babies and toddlers. It cannot be taken apart or broken, so it is safe to be used by toddlers without supervision (only if the charging base is kept out of their reach). Two brightness modes and a timer option allow you to adjust this night light to your child's needs.

3. Cloud B Twilight Constellation – Magical Kids' Night Light with a Timer
This turtle-shaped constellation projector is suitable for children aged 2 and older. It looks like a real toy, so it should be rather appealing to toddlers. It can be used as a nightlight and as a before-bedtime entertainment. The Cloud B nightlight projects starry sky with the moon on walls and a ceiling, creating a magical atmosphere. Perhaps, that's why it is so adorned by toddlers.
In spite of having a hard plastic shell, the nightlight looks much like a stuffed toy. There are four control buttons on the turtle's shell. One button turns it on and off, while three others are used to switch between different colors of light: green, blue and amber. Toddlers usually have no problems turning it on and off and changing the colors. The device runs on batteries, which are safely hidden under the lid fastened with four screws. Three AAA batteries are included in the package.
Features
45-minute timer
Constellation projector
The nightlight is rather bright, but not overly disturbing. If it is placed not too close to the bed, a child can peacefully fall asleep with the light on. Please note, that if you intend to let your toddler sleep with this nightlight, it is better to put the amber light on. Regardless of the color, the light is timed to stay on only for 45 minutes.
Pros
Features a night sky projector, which many toddlers find very amusing.
2 in 1: a nightlight and a toy.
Three colors available.
Wireless and portable.
Comes with batteries.
The 45-minute timer provides enough time for a toddler to fall asleep and turns the light off for complete darkness during the rest of the night.
Cons
Batteries need to be changed time after time.
Does not have a regular dim light mode that can be left on throughout a night.
Verdict
Cloud B is a fun and entertaining nightlight. It features a celestial projector that creates a special atmosphere in a toddler's room. The light is rather powerful to produce clear and sharp projections, but at the same time it is not too bright and can be left on to facilitate a child's sleep. There is no regular light mode, so if your toddler prefers to sleep with a dim light on, you will have to get another nightlight of a different kind.

4. Easuntec Night Light Dinosaur – Excellent Nightlight for Kids' Room
This is a rather unusual and fascinating nightlight. When turned on it looks like a three-dimensional hologram of a dinosaur. In reality, it consists of a base and a transparent acrylic insert with an etched image. When illuminated the nightlight produces the 3D effect. There are seven colors available, including red and yellow – the most favorable colors for the night sleep. You can put on a single color or start a carousel with one color changing another in several fun modes. Adjustable brightness allows you to create a desirable atmosphere in your toddler's room.
Unlike many other nightlights, this one has a remote control, with which you can choose colors of illumination, adjust brightness, choose a color changing mode, turn it on/off and reset. In case a remote gets lost, there is a smart button on the base which duplicates all the basic functions.
Features
Automatic color changing
Long cable
Battery
USB cable
Easuntec Night Light has two types of power supply: batteries and USB cable that can be connected to a computer or to a power outlet (the plug is not included). The cable is rather long, so there should not be any problems with finding a place for the nightlight.
Pros
Unusual design imitating a 3D hologram.
Has seven colors to choose from, including red and yellow.
Comes with remote control.
Two alternative power supply options.
Rather compact, but not tiny.
Several brightness levels.
Easy to clean.
Cons
Acrylic surface catches fingerprints very easily and that might affect the quality of an image.
Does not have an auto-shut-off timer.
Verdict
Easuntec Night Light is a nice room decor designed to create a relaxing ambient atmosphere in your toddler's room. It is suitable for toddlers, older children, and adults. If you want to use it as a nightlight, you should set one color to burn steadily. For daytime entertainment, you can choose one of the four color changing modes. This product comes in the shape of a dinosaur, but there are other designs available.

5. My Tot Clock – Good Nightlight for 4-5 Year-Old Children
My Tot Clock is not a typical nightlight. As is clear from its name, this is a clock that is designed to help young children get used to their schedule. This device can be very helpful for children who are learning to be independent and need little hits when it is time to go to bed, to wake up or to take a nap. Nevertheless, toddlers are also welcome to use it regardless of their abilities, since My Tot Clock is very fun, entertaining and educating. And it wouldn't have been included in this review if it didn't have a night light option.
It has four colors of night light available. The manufacturer has designed it so that each color corresponds to a certain activity. The bedtime is indicated by the blue light, so by default that would be the color of the night light. Other features include bedtime songs, fairy tales, wake-up music, and white noise.
The clock is rather small. It is just the right size to be placed on a toddler's night stand. Controls that are to be used by parents are hidden under the faceplate. There are four levels of brightness that can be adjusted according to your child's preferences. This device also features an illuminated analog clock, which comes in handy if your child is learning to tell time.
Features
Analog clock
Timer
Music
Narrations
White noise
Scheduling
My Tot Clock runs on batteries or can be plugged in if you want to save the battery power. If it stays on all night and is used actively during the day, the batteries will die pretty fast. To make them last longer, you should use an energy saving mode.
Pros
Aside from being a night light, My Tot Clock performs 9 different functions.
Helps toddlers keep up with their schedule.
Suitable for older children as well help develop self-organization skills.
Educative.
Hidden controls prevent a toddler from messing up with the settings.
Night light with five brightness levels.
Two sources of power supply.
Fun and entertaining.
Cons
Blue color night light.
If batteries die all the settings will need to be reset, which might be inconvenient, considering that they normally don't last long for this device.
Verdict
My Tot Clock is a multi-functional musical night light for toddlers and preschoolers (it would be more accurate to say that night light is one of its options). This could be your toddler's first own clock, which will help him or her understand the schedule and follow the routine. Still, this clock is more suitable for children of 4-5 years old.

Frequently Asked Questions About How to Choose Nightlight for Toddlers
Peaceful and sound sleep is very important for children, especially at an early age. The concerned parent naturally would do anything to create the best sleeping environment for their toddlers. A proper nightlight is one of the things that can combat a toddler's fear of darkness and induce healthy sleep. So what are the most important features that make up a good nightlight? Let's figure out.
Is good or it bad to sleep with a nightlight on?
There are different opinions about sleeping with a night light. Some people believe that we should sleep in complete darkness without any sources of light. Others believe that mild light does not affect sleep. Of course, sleeping in the dark is preferable, but it's not always possible, especially if you have an 18-month-old afraid of the dark. So the best thing you can do is to choose the right night light that won't be too bright and disturbing. To minimize the effect of night light on your toddler's sleep you should place it at some distance from the bed so that the light does not shine right in the sleeper's eyes.
What color of light is preferable?
Nightlights come in a variety of colors. However, not all of them are the same. Yellow, orange and red hues are the best for our health since they do not disrupt the natural processes that occur in our bodies while we sleep. While multi-colored lamps and nightlights might be entertaining, you should leave only warm-colored lights overnight.
Is there any difference between a nightlight for infants and a night light for 2-3-year-old children?
There is no distinction between nightlights for different age groups when it comes to the basic characteristics. In regards to additional features, it is advisable to avoid overly stimulating nightlights in newborns' and infants' rooms. For instance, rotating lights with projectors and multimedia options are fun for toddlers (of course if not left on overnight), but they will tire a young infant very fast. In the latter case, a steady, warm and dim night light would be the best choice.
What is the best night light for feeding a baby?
Babies are very sensitive to visual stimulations. Overly bright light can make them lose their sleep and become too anxious. A good dim light bulb for a nursery is what you should choose. It should be of a steady warm color, and the light should be very soft. Assuming that night light in a baby's room is usually left on overnight, it should have long-lasting bulbs and be energy-efficient.
Now as we have covered the most important questions regarding nightlights, let's go shopping! We have picked five best toddler nightlight lamps that are cute, fun, and affordable and provided them with honest reviews.
Proper color of light. If you intend to use a night light to help your baby sleep, you should choose the light in one of the following spectrums: yellow, amber or red. These colors are not disturbing and if your toddler wakes up in the middle of the night, he or she will be able to fall back asleep easier.
Small and lightweight. Your toddler should be able to handle the nightlight effortlessly. Besides, in case a child accidentally drops it on a foot, it should not cause any serious damage.
It is always better to have a device that is not just a night light. Some of the most common and useful features include white noise, alarm clocks, music, and stars projector.
Cord-free nightlights are usually more convenient. A toddler can take such a lamp to guide the way to the bathroom at night. Besides, it will come in handy on a family road trip or a camping trip. Portable nightlights can be rechargeable or battery powered. Both types have their pros and cons; the choice depends on your preferences and lifestyle.
Easy to use
Toddlers love pressing buttons and operating simple devices. They feel proud to own something that belongs only to them and something they can use at their whim. Giving a toddler a nightlight is a great way to satisfy this need. Obviously, the device should be rather simple to use, preferably with only a few simple functions. More complex, multifunctional night lights should have hidden controls accessible only by adults.
Safe and hygienic
Your child's safety always comes first. You need to take several precautions prior to giving a nightlight to your toddler. Furthermore, you should make sure it does not have any sharp edges or parts that your toddler can break off and swallow. If the nightlight has batteries, they should be located in such a way that a toddler won't access them. Some toddlers still like putting things in their mouths, a nightlight is no exception. Therefore, it is very important that it is made of child-friendly materials. High-quality plastic would be the best choice since it is easy to clean and thus more hygienic.
Video: How to does night projection lamp for kids?
Best toddler nightlight: conclusions and recommendations
As you see, night lights come in different configurations, sizes, and colors. Some of them have so many features they can hardly be called nightlights. Nevertheless, if you realize what is important for you and your toddler, choosing the right one will not be too hard. You just have to keep in mind the basic recommendations and use some imagination. And remember that a nightlight is only a tool. To raise a good sleeper you should teach your toddler how to sleep in dark and light places. Most importantly, this is your loving care that makes your little one feel safe and sleep peacefully at night.