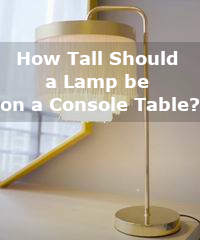 Are you going to decorate your living room? You would get stocked about it. Here, in northern California, it receives tons of sunlight. So, large windows make your room hecka bright. A kind of layered illumination is also essential. It creates pleasant atmosphere and balance. How tall should a lamp on a console table be?
Selecting a lamp, don't forget about its size. It should not look tiny or huge. The shade has to match the style of your room. Fitting all pieces of furniture is essential. Additionally, consider your eyes comfort and ergonomics. Keep reading to find an easy selection guide.
How Tall is a Console Table?
Every room needs comprehensive lighting. As any space in your house, a hallway should feature accent, ambient and task illumination. Your hall has no natural light, but it shouldn't be dull. Sufficient lighting level is necessary. In residential spaces, it makes not less than 100-500 lux.
A living room, on the contrary, is a well-let space. It contains several clearly-defined zones. Don't neglect the corners. They might feel the coziest. So, use one or several console tables to style your home. This piece of furniture is commonly:
small;
wide;
shallow;
square or rectangular by shape;
versatile.
A console table sits against a wall. It's 28-36 inches in height. Above all, two bent legs in front support the table. Meanwhile, the furniture fits narrow spaces like entryways or hallways.
Table Lamp Shapes and Dimensions
Standard height of a console table is about 30". If ceiling in your room is high, it would be several inches taller. Do all table lamps for living room suit and match it? Some lamp types are preferable. They include:
Buffet.
Tripod.
Candlestick.
Swing-arm.
Narrow, slender light fixtures are minimalist and space-saving. Best lamps for console table are hella small. Their shades need to be narrower than the surfaces. They provide an accent to your living room. They illuminate your displays or make sitting areas cozy. Table lamps are functional and decorative.
They illuminate your stuff, making any room interior beautiful and stylish. What about height? Being well-balanced and safe, these lighting fixtures might be tall or short. Let's figure it out.
How Tall Should a Lamp be on a Sideboard?
Table lamps let you perform various tasks. In your office, they support reading and writing. A lamp that sits near a sofa creates cozy atmosphere or helps you knit. Illumination in your bedroom should never be too bright. It lets you or your children feel safe and comfortable.
Dim light creates peaceful atmosphere, promoting relaxation. You don't have to get hyphy or energetic at night. Moreover, nighttime lighting might stimulate eating. On the other hand, regarding toddlers, it's not a bad habit. What about bedside table lamp height? It's not difficult to calculate it.
General rule tells us that the lamp height must not exceed 1.5 table heights. Lampshade diameter should correspond to the base size. It has to be about 60-80% as tall as the base.
What Color Lamp Should I Get?
Commonly, bottom of the table lamp shade corresponds to your eye level. While you are sitting and reading – an efficient light source is about 2 feet above the book. But there is a grip of table lamp types and styles. When it goes about a bedside table or a layer task lamp, it might be much smaller.
Your best nightlight for nursery serves several important functions. These cute lighting fixtures:
look like toys;
play soft lullabies and soothing melodies;
rotate;
project stars or ocean waves on the nursery walls and ceiling;
shuts of automatically in an hour or so.
See interesting information about best nightlight for nursery!
A nightlight creates calming atmosphere, soothing your cherished baby. It refers to any type, like tabletop, projector, or stuffed animals. Researches from Ohio State University study light exposure at night. They prove that its warm color is beneficial. It mimics sunset reflection. The shade itself can be white or light-tone. It lets you get relaxed easier, giving a king of soothing effect.
How to Decorate a Sideboard?
Narrow console tables are useful and space-saving. Use them as storage or a surface to place a table lamp. In a small hallway, these pieces of furniture serve functional purposes. They might feature a mirror above. It's handy to set down your keys, handbag or mail on the surface.
Sideboards commonly find a place in functional spaces like dining rooms. These long and slim tables are easy to fit. They take a minimal amount of space. Have you got a sideboard? It's possible to use it as a:
serving table;
display;
storage;
buffet.
A mirror above it looks cohesive, especially with a similar frame. Place a lamp on the tabletop. It adds a beautiful touch of style, making a corner cozy and inviting. A vase with flowers or some items that range in scale balance the sides out. Functional items like dishware or napkin holders are appropriate. Sideboard is an epic spot for temporary kitchen utensils storage.
Final Words
You know a lot of things about lamps, Dude! Selecting its type or a suitable bulb is easy. When you define the size and brightness level you need, it's intuitive. Now you can furnish any room in your house, including hallway or nursery. A suitable table lamp makes it cozy and beautiful. So, buy stylish and functional light fixtures. Enjoy reading or any other tasks while your kids are sleeping soundly. Let the atmosphere in your family home be peaceful and comfortable.